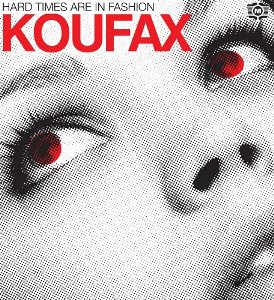 Alles ist schlecht. Die Mehrwertsteuer steigt, Terroristen bedrohen die Welt, das Gesicht der Kinderschokolade wurde ausgetauscht. Kann es schlimmer kommen? Harte Zeiten sind eben in Mode. Genauso sehen das auch Koufax um deren Leader Robert Suchan.
Suchan ließ sich nach Beendigung der letzten Europatour für einige Monate in Prag nieder. Selbstfindung. Die Welt und Amerika mal aus einem anderen Blickwinkel betrachten und zu neuen Erkenntnissen über sich selbst gelangen. Solch ein Fast-Neuanfang war auch nötig. Denn Koufax standen auf einmal ohne Plattenvertrag da und das Geld wurde knapp. Schulden türmten sich auf. Nachdem sich Robert Suchan selbst gefunden hatte und mit Ryan und Rob Pope zwei neue Mitglieder von den ehemaligen Get Up Kids gewonnen werden konnten, ging es in Eigeninitiative für Aufnahmen ins Studio.
In einem Studio in Kansas wurde dann bei Sonne und im Schnee "Hard Times Are in Fashion" aufgenommen. Beeinflusst durch Suchans Findungsphase, den Ereignissen in und um die USA und der Lage um die Band. Den harten Zeiten wurde sich jedoch gestellt und sie wurden in ihrer Musik verarbeitet. Aber keine Angst, dass sich der Albumtitel in der Arbeit niedergeschlagen hat. Denn nach dem hören sind die hard times wieder old fashioned. Ganz sicher. Es ist alles andere als düstere Weltuntergangsmusik, wie sie der Albumtitel vermuten lässt. Aber dennoch sind die Kontraste, die das Album offenlegt, unverkennbar. Hier der Optimismus und die Ironie des Betroffenen und auf der anderen Seite leisere Töne mit einem Hauch Pessimismus, die jedoch merklich in der Minderheit sind. Man merkt, dass Suchan und die Band einiges mitgemacht haben.
Vor allem ihre amerikanische Staatsangehörigkeit schlägt ihnen mächtig auf den Magen. Eigentlich wären es bessere Europäer oder Kanadier. We travel through each foreign land/We heard all the jokes and we wanted in/So we colour ourselves Canadian. Zitiert aus dem hochironischen "Colour Us Canadian".
Koufax schaffen mit ihrer Musik eine perfekte Synthese. Sie vereinigen zwei Elemente zu einer neuen Einheit. Das Piano wird, ohne dass es fremd wirkt, in die Koufax´sche Harmonie und Melodie integriert. Alles ist aus einem Guss, wie man es schon von den beiden Vorgängerwerken kennt.
Abräumer wie "Why Bother At All" in alter Gassenhauer Manier geben sich die Klinke in die Hand mit Harmoniehimmelöffnern wie "Her Laughter" und dem wunderbaren "Isabelle". Koufax haben sich wieder selbst gefunden. Sie sind unverwechselbar und beherrschen ihren eigenen Stil gekonnt. Die harten Zeiten sollten jetzt vorüber sein für Koufax. Und wenn jetzt noch das alte Kinderschokoladengesicht wieder kommt ist wieder alles in Ordnung.
www.koufax.de