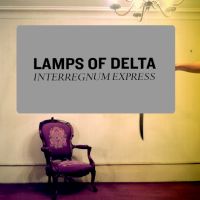 Mit "Interregnum Express" von Lamps of Delta steht Ende August ein neues Importprodukt in gutsortierten Plattenladen eures Vertrauens im Regal. Garniert mit einer Mischung aus Noise/Hard-Rock, Folkpop und auch einer gewissen Dosis Rock´n´Roll versuchen die Schweizer auch hierzulande zu punkten. Ob der Wurf über die Ländergrenzen hinweg gelingt? Schauen wir mal.
Zunächst merkt man sofort, dass einem bei Lamps of Delta nicht das klägliche Ergebnis einer halbwegs ambitionierten Kellerband um die Ohren schwirrt. Die Jungs aus der Nähe von Basel haben bereits eine EP und ein Mini-Album in ihrer Discographie stehen und dass sie ihre Instrumente beherrschen steht schon nach wenigen Minuten Hörzeit außer Frage. Wenn dann noch ein Produzent wie Guido Lucas, der auch schon für Bands wie Blackmail, Scumbucket oder Genepool an den Reglern saß, das Können in die richtigen Bahnen lenkt, kann schon etwas ordentliches dabei herauskommen. Und genau das ist bei "Interregnum Express" passiert.
Hier trifft Musik, die zeitweise an die älteren Sonic Youth-Scheiben oder den aktuellen Output von This will destroy you erinnert, auf die Fugazi-ähnliche Stimme von Sänger Martin Chramosta. Ruhige Parts wechseln sich mit harten ab und manche Passagen werden mit einer derartigen Dichte und Intensivität präsentiert, dass es eine wahre Freude ist. Und bei insgesamt 12 Liedern auf fast 45 Minuten dürfte ebenfalls niemand Grund zu meckern haben.
Letztendlich scheint der Wurf gelungen zu sein. Ein sehr solides Album einer Band, die ihr Fach beherrscht und der man nur wünschen kann, dass sie auch außerhalb der Schweiz Gehör finden wird. Wer jetzt seine Ohren gespitzt hat, kann einmal auf deren
Myspace-Präsenz
vorbeischauen und sich dort im Player zwei Lieder von der kommenden Scheibe anhören und sich seine eigene Meinung bilden. Lohnt sich auf jeden Fall.
Homepage
VÖ: 28.08.2009
Vertrieb:
Alive

Label: Pottwalplatten