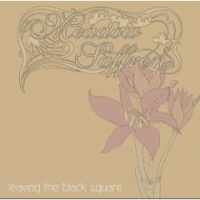 Meadow Saffron. Das sind ein paar Jungs aus Westfalen, die versuchen Post-Rock á la Mogwai mit alternativen Tönen auf ihrem Album Leaving the black square zu einem eigenen Musikstil zu verquicken.

Praktisch gesehen/gehört schraddeln Gitarren dezent bis ausufernd über ein ziemlich ausgeklügeltes Drumklangfeld. Wer den eher zurückhaltenden Gesang vieler Postrockbands erwartet ist schief gewickelt. Hier wird vornehmlich geschrien, anders käme der arme Sänger auch garnicht gegen die Instrumentalfront an.

Das Konzept scheint für die Jungs aufzugehen. Gerade das großartige PI ist ein wahres Sahnestückchen.

Doch hin und wieder wankt das Baugerüst, dass die Jungs von Meadow Saffron aufgestellt haben, um sich an den gewagten Bau eines Genremixes zu wagen. Gerade gegen Ende des Albums wird es brenzlig.

Da strauchelt der Gesang bei Throwing back the stories wie der Klassendepp, der vom Schulschläger in die Mangel genommen wurde. Da spielen die Instrumente zu sehr gegen den Gesang an.

Versteht mich nicht falsch, Lieder wie The Medical director oder Island sind echte Bomben, nur fehlt die Puste insgesamt um dieses Album zu etwas besonderem zu machen.

Zurück bleiben fünf gute Songs, denen dummerweise ebensoviele nette Versuche gegenüberstehen. Dennoch ist das Teil durchaus empfehlenswert.

www.myspace.com/meadowsaffron
VÖ: 03.08.2009 auf Radar/FNR