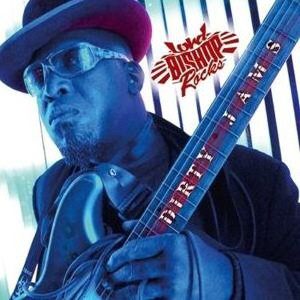 Ständig auf Konzertreise. Dann noch selbst ernannter King of Sex Rock und nebenbei noch politisch unterwegs. Das Leben ist stressig für Lord Bishop.
"Wenn Musik nicht anmacht, dann langweilt sie", meint der gute Mann. Da hat er Recht, braucht sich jedoch keine Gedanken machen, dies trifft nämlich auf seine aktuelle Platte, den "Dirty Jams", nicht zu. Ganz im Gegenteil. Der Opener "Jam of love" geht in bester Breitwand-Highway-Rock Manier gleich nach vorne los. "Mama said" funkt sich durch sämlichte Pornoshops dieser Welt und so geht die Reise fort. Ausser dem chaotischen "Drugs 5", das ein paralell aufgenommes Medley und somit absolut unhörbar ist, findet man hier so gut wie keine Ausfälle.
Ok, textlich ist das Album bei weitem nicht so abwechslungsreich wie die Musik. Tendiert zwischen Ficken und Moral. Aber wer braucht schon Texte wenn sie in so großartiger Melodie verpackt sind. Hier spielt sich ein wahnsinniges Saxophon in Rage, dort eiert eine Orgel herum und über allem regiert König Rock N' Roll in seiner ganzen Pracht.
Wenn man seiner Homepage glauben kann, dann ist er mit seiner Band den "Rockadelic Kings" sowieso auf Dauertournee und auch recht oft in Deutschland. Sollte "Lord Bishop Rocks" mal bei euch in der Nähe sein, dann geht hin.

"Turn it up and make it loud". Richtig so. Absolut Empfehlenswert.
VÖ: 12.12.2007 auf FinestNoise/Radar