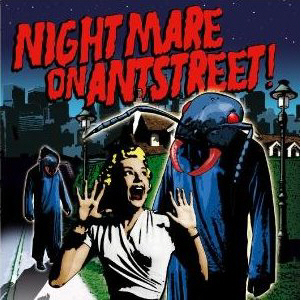 Weihnachten steht vor der Tür. Best-Ofs, Compilations und ähnliche Machwerke überschwemmen die Regale. Hier ist eine Sammlung bei dem jedem Punk- oder Hardcore-Fan das Herz aufgehen könnte. Welcome to
Nightmare on Antstreet
.
Das saarländische Label "Antstreet Records" ist eher ein unbekannter Vertreter seiner Zunft. Doch der größte Teil der 25 Bands auf diesem Sampler könnten durchaus bei den Großen mitspielen. Sei es nun Highschool-Pop-Punk (Janez Detd, Small State, The Breathalyzers), Hardcore (z.B. Acension) oder aber waschechten Punk (z.B. Pascow und Guitarshop Asshole) alle Stile der härteren Gangart sind abgedeckt.
Auffällig ist der hohe Anteil von italienischen Bands, "Lauf Forrest lauf" von Pascow ist übrigens der einzige Song mit deutschem Text. Macht aber nichts, sind es doch gerade die Italiener, die mächtig Feuer unterm Arsch machen. Allen voran die Los Fastidos mit "Un calicio ad un pallone" oder das absolute Highlight und an "Rise against" erinnernde "Come out and play" von "Spiteful". Gerade letzteres fönt einem die Haare trocken. Weitere Anspieltips sind die Songs von "Small State", "Skin of tears" und "Super Absorber".
Natürlich findet sich auch einiges an Füllmaterial auf der CD. Und aufgrund der doch recht gleichen Stile ist auf die Dauer kann sich eine gewisse Montonie breitmachen. Wer angesprochene Musiksparten jedoch mag bzw. lebt, der kommt um diesen Labelsampler nicht herum.
VÖ: 17.12.2007 auf AntstreetRec