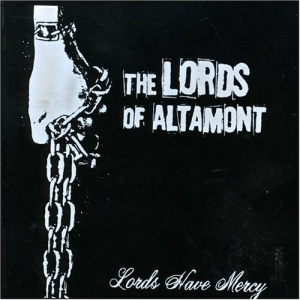 Der Zufall wollte es, daß ich heute bei einer meiner Einkaufstouren im Saturn-Elektronikgeschäft meines Vertrauens eine kleine, aber feine CD entdecken sollte, auf der ein kleiner, aber aussagekräftiger Aufkleber großes Verkünden sollte: "The perfect combination of The Stooges´, apocalyptic punk, The Sonics´garage energy and MC5´s heavy soul".
Hm, hört sich doch mal sehr interessant an - also schnell die CD geschnappt, kurz durchs Anspielgerät gejagt und direkt eingesackt - was sich im Nachhinein auch als genialer Schachzug herausstellen sollte.
Aber zuerst einmal etwas über die Band: The Lords of Altamont aus Los Angeles sind sozusagen ein Allstar-Team aus Mitgliedern der Cramps, der Fuzztones und der Surfband The Bomboras, die sich dazu entschlossen haben zusammen die Garage-Keule auszupacken und ordentlich Gas zu geben - und das nicht zu knapp: Mit 11 Liedern versucht der 5er-Trupp die Gunst des Zuhörers zu gewinnen und da setzt man natürlich auch gerne die Orgel als Universalwaffe ein (was stellenweise ein wenig and die International noise conspiracy erinnert) und lässt auch hier und da mal die Mundharmonika aufblitzen - jedoch immer gepaart mit einer gehörigen Salve Rock´n´Roll. Ein absolut gelungenes und sympatisches Konzept, was einem da aus den Boxen entgegenschallt und die Füsse mitwackeln lässt.
"Buried from the knees down", "Lets burn" und "Project blue" erweisen sich als absolute Knaller des Albums und daher bleibt es mit Sicherheit nicht beim ein- oder zweimaligen Hören des Silberlings.
Für Freunde gepflegter und authentischer Garage- und Rock´n´Roll-Musik wäre "Lords have mercy" auf jeden Fall ein Kauf der sich lohnen dürfte. Und falls die Truppe demnächst mal im Rahmen einer kleinen Clubtour durch Deutschland tingelt, bin ich mit Sicherheit auch dabei!