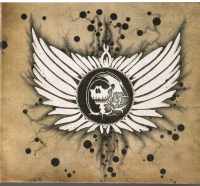 Die Mad Monks aus Bremen sind mir bisher nur durch einen eher unkonventionellen Festivalauftritt im Jahre 2006 in Erinnerung geblieben. Ihr Maskottchen, der Black Monk begleitet nun den Hörer durch ihr neues Album Flying Circus und taucht sogar in einem extra für das Album entworfenen, wenn auch etwas sinnfreien, Comic auf. Im Norden der Republik schon mit einem enormen Bekanntheitsgrad ausgestattet, schickt sich die Band mit ihrem neuen Longplayer sich in die Herzen der restlichen Provinz zu spielen.

Das sich die fünf Mönche mit dem Album Mühe gegeben haben ist in jedem Detail erkennbar. Die Bandinfo kommt als fett gedrucktes und extrem ausführliches Heft ins Haus geflattert, dazu gibt es ein Handarbeitszertifikat , das einem erklärt welches der Bandmitglieder das vorliegende Digipack zusammengeklebt und zugeschweisst hat.

Im Booklet befinden sich neben den obligatorischen Songtexten der angesprochene Comicstrip. So eine Ausstattung macht Spass, sieht man nicht alle Tage.

Musikalisch spezialisieren sich die Mönche auf feinsten Ska mit Punkeinflüssen. Als Referenz müssen ein weiteres Mal die guten alten Mad Caddies herhalten.

Das Album mit seinen immerhin 15 Titeln ist nicht zuletzt durch einen Haufen Gastsängern von Bands wie Skannibal Schmitt, Velvetone oder President Evil extrem abwechslungsreich. Die Instrumentalnummer Dead Man's Canyon könnte einem Italo-Western entsprungen sein. One minute of pure riot macht seinem Namen durch extreme Geschwindigkeit alle Ehre, Me and my guitar wird von Frauengesang unterstützt, Alltag und Stress und so... geht in Richtung Dancehall.
Die Mad Monks packen mit dem Flying Circus eine musikalische Wundertüte aus Punk, Spass und Ska, von der sich viele Bands einiges abschauen könnten und sollten. Knalleralbum. Jeder der auch nur entfernt was mit Blechblasinstrumenten anfangen kann, sollte hier zuschlagen.
www.madmonks.de
VÖ: 11.09.2009 auf ANR Music&More / Broken Silence