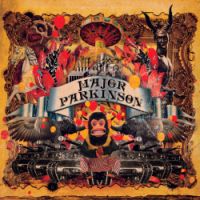 Die 250.000 Einwohner zählende Stadt Bergen in Norwegen galt in den letzten zehn Jahren im Musikgeschäft durchaus als Keimzelle neuer und frischer Musik. Künstler wie Röyksopp, Annie, Sondre Lerche, Kings of Convenience und demzufolge auch der Solokünstler Erlend Øye stammen aus dem skandinavischen Städtchen und können sich nun über einen weiteren Bruder im Geiste freuen: Major Parkinson treten mit ihrem selbstbetitelten Album ins internationale und musikalische Rampenlicht.
Das Coverbild des neuen kreativen Outputs der Nordlichter lässt schon interessantes erahnen: Ein Spielzeugaffe im Zentrum - umgeben von Panzern, Elefanten mit Adlerflügeln, Statuen und einem Karussell. Wer jetzt vermutet, dass der durchgeknallte Zirkus die Stadt beehrt, der dürfte durchaus richtig liegen. Die sechs Herrschaften von Major Parkinson haben sich in der Vergangenheit vor allem durch ihre ausschweifenden und gefeierten Liveshows auch in Deutschland einen Namen machen können, bei denen vor allem Sänger Jon Ivar hier und da einmal eine gesunde Prise Geisteskrankheit nachgesagt wurde.
Musikalisch beeindruckt schien die Band im Sommer 2006 vor allem die Produzentin Sylvia Massy zu haben. Sie entdeckte die Band auf Myspace und lud sie postwendend in ihr Studio nach Los Angeles ein, wo fortan am Debütalbum gewerkelt werden durfte. Massy hat sich in der Vergangenheit als Produzentin von Bands wie System of a down, Tool, Johnny Cash oder den Red hot chilli peppers einen Namen gemacht und war somit für die noch junge, norwegische Truppe ein absoluter Glücksfall.
Herausgekommen ist ein bestechend gutes Debütalbum, was die Musik von System of a down, Mr. Bungle/Faith no more und zeitweise auch Modest Mouse hervorragend kombiniert. Zusätzlich hat man ordentlich den Stoner- und Wüstenstreuer angesetzt, und hätte somit mit dem ein oder anderen Stück vor einigen Jahren durchaus reelle Chancen auf einen Platz auf dem Pulp Fiction-Soundtrack gehabt. Stets chaotisch, aber gleichzeitig auch detailliert und hochmelodisch, was einem während der 13 Lieder präsentiert wird. Vor allem der Stimmumfang von Sänger Jon Ivar ist dabei absolut erwähnenswert, da er während der Lieder hinsichtlich seines Stimmbildes problemlos zwischen Outputs à la Serj Tankian und Isaac Brock wechselt. Musikalisch reicht bei Major Parkinson die Spanne ebenfalls von chaotisch exzessiv (Bazooka Mirror) bis hin zu ruhigen und andächtigen Klängen (Greatest Love).
Im Hause Major Parkinson scheint sich Genie und Wahnsinn getroffen und lieben gelernt zu haben. Das so entstandene Baby ist ein überzeugendes und mitreißendes Geschöpf, was in den nächsten Monaten hoffentlich die verdiente Beachtung in der deutschen Musikszene bekommen wird und bei einer mit Sicherheit kommenden Tour genug Zuschauer vor die Bühnen befördert. Wundern täte es, wenn nicht.
VÖ: 23.10.2009 auf Waggle-Daggle Records / Vertrieb: Brokensilence