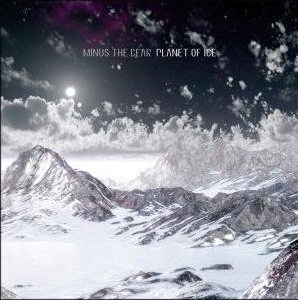 Die Jungs von "Minus the Bear" machen es einem nicht gerade leicht. Eben noch mit dem famosen "Menos el Oso" ganz relaxt an rauhen Küstenstränden ausgeruht, zieht es sie im nächsten Moment auf einen anderen Planeten, den "Planet of Ice".
Die Musik der Bären ähnelt dabei weniger der unwirtlichen Berglandschaft auf dem Covers als einem Bordcomputer des Raumschiffs von dem eben jenes vermeintliche Foto geschossen wurde. Zu vertrackt und komplex kommen die Songs daher, als dass man sie auf Anhieb verinnerlichen könnte. Ausser einer Ausnahme (Throwin' Shapes) bekommt man ein komplett anderes Album als den Vorgänger präsentiert.
Viele Songs kratzen an der Fünf Minuten Marke, verschachteln sich, proggen in bester Pink Floyd Manier in der Gegend umher um schließlich im Keyboardgewirr unterzugehen.
Nicht einfach da am Ball zu bleiben. Viele Wendungen der Songs machen die Lieder abwechslungsreich, aber dementsprechend auch nicht eingängig. Wenn man sich das Monster "Lotus" betrachtet, das nach vier Minuten schon erledigt zu sein scheint und sich nach der sechsten mit einem ausufernden Solo noch einmal kräftig ins Zeug legt um den Song schließlich komplett neu aufzubauen und erst nach knapp neun Minuten zu beenden. Oder das dudelnde "Dr.L'Ling". Oder aber das nach vorne gehende "Burying Luck". Das schöne "When we escape" Alles Kunstwerke für sich, denen man Aufmerksamkeit schenken muss, damit einem nichts entgeht.
Jake Snider singt in "White Mystery" "Each beat, every note played perfectly by you". Ok, so wirklich stimmt das nicht, aber ist schon ziemlich nah an der Wahrheit. Hätten wir bei Benzol ein Bewertungssystem von 1 bis 10, dann wäre das Teil ne lockere Acht. Da wir sowas aber nicht haben, bleibt es ne verdammt gute Platte.
http://www.minusthebear.com