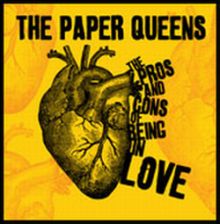 Dem Gemeckere, dass Bands aus hiesigen Landen selten qualitativ hochwertige Musik auf die Beine stellen können, wissen die Paper Queens aus dem Rheinland nun etwas entgegenzusetzen. Mit ihrer bald erscheinenden EP The pro and cons of being in love liefern die jungen Musiker ein wirklich angenehmes Erstlingswerk ab.
Die vier Jungs aus Köln und Düsseldorf haben sich, gänzlich unkonventionell, durch Kontaktanzeigen im Internet gefunden und machen seitdem gemeinsam Musik, die vom Stil her stark an Bands wie Nada Surf zu The weight is a gift-Zeiten und Tocotronic erinnert. Sänger und Gitarrist Benedikt Schmitz dürfte manch einem Kölner noch mit seiner Vorgängerband Sommersault Heros im Kopf geblieben sein. Nun steckt dieser sein Herzensblut gänzlich in The Paper Queens und zaubert mit diesen Indiepop für die schönen Sommertage, der – wie sie selbst sagen – melancholisch, aber tanzbar sein soll.
Erwähnenswert ist auch die Tatsache, dass bei den Paper Queens gänzlich auf verzerrte Instrumente verzichtet wird. Stattdessen bedient man sich auf den fünf Stücken ihrer Erstlings-EP einer Westerngitarre, Bass, Keyboard und natürlich dem Schlagzeug. Ein Zusammenspiel was aufgeht und auch nach mehrmaligem Hören immer noch greift. Ob die Musik auch für kalte Wintertage gemacht ist, vermag ich jetzt noch nicht zu sagen. Sollte aber auf jeden Fall einmal ausgetestet werden.
VÖ: 02.07.2009 / Label: Eigenvertrieb
Homepage