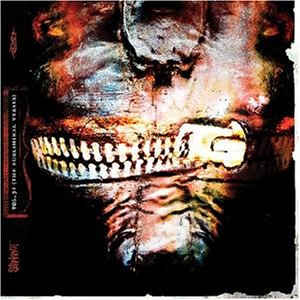 Bereits im Vorfeld betonten die neun Schlüpfknoten immer wieder, inwieweit sie sich weiterentwickelt und dennoch nicht an Härte und Aggressivität verloren hätten. So ne Scheisse.....IOWA2 oder was.
Rückblende: Slipknot bringen 2001 ihr zweites Studioalbum "Iowa" an den Start. Nachdem der Erstling, schlicht "Slipknot" betitelt, wie eine Bombe in die Crossover (neumodisch mittlerweile New-Metal) Szene eingeschlagen war und wirklich abgedrehte, harte Musik massentauglich gemacht hatte, lastete enormer Leistungsdruck auf den Mannen um Sänger Corey Taylor.
Schliesslich wurde "Iowa" rausgeballert, welches ein Machwerk puren Hasses und der dementsprechenden Musik war. Ein qualitativer Abstieg machte sich bemerkbar. Immer mehr kleine Kiddies, die daheim mit lauter Musik schocken wollten, rannten im "Maggotdress" herum und die Band verkam eher zu einem Lachschlager, denn zu einem ernstzunehmenden Musikact. Zwar wurde eine dritte Platte angekündigt, jedoch wieder und wieder verschoben. Als sich knapp die Hälfte der Band dazu entschied an ihren Nebenprojekten (Stone Sour, Murderdolls, To my surprise) zu arbeiten, schien der Exitus von Slipknot gekommen zu sein. Bamm.

Drei Jahre später gibts dann urplötzlich, mit einem neuen Album, dermassen auf die Fresse, dass sich alle Kritiker (ja, ich ebenfalls) erstmal neu orientieren müssen. Und bei Weitem kein zweites IOWA-Geschredder. Aggressiv sind sie immernoch, gibt es doch mit den Stampfern "The Blister Exists", "Three Nil" und der Single "Duality" gewohnt (wenn man "Iowa" ignoriert) sehr gute Arschtreterkost. Damit aber nicht genug, die Band wagt neuerdings den Blick über den Tellerrand und kann dies spielerisch gekonnt umsetzen. Vertracktes Drumming, geile Breaks und neuerdings sogar Soli verfeinern selbst die heftigsten Lieder der Platte. Das diesmal der Herr mit den Turntables auch mehr zu hören und nicht mehr wie ein Fremdkörper wirkt (z.B. "Pulse of the Maggots") macht sich bezahlt. Die wahrlich grössten Neuerungen sind gleich zwei Songs mit akkustischen Gitarren ("Circle"&"Vermillion PT.2") und der verschärfte Einsatz von richtigem Gesang im krassen Kontrast zu wahren Brüllorgien stehen. Ob die Balladen wirklich zu Slipknot passen, oder ob es ein trotziges "sehr her wir können's wenn wir wollen" ist, kann jeder für sich ausmachen. Was den neuen Songs im Hinblick auf den Gesangstil gut tut, sind die Wechsel zwischen unkanalisierter Wut und den klaren Gesangslinien. Geil.

Was unterm Strich bleibt, ist eine Platte von einer Band, die sich endlich wieder auf dem Wege der Besserung befindet, ob es die dauerhafte Rückbesinnung auf alte Tugenden oder eher ein zwischenzeitlicher Ausrutscher und somit ein letztes, wenn auch räudiges, Zucken einer neunköpfigen Schlange ist, wird die Zeit entscheiden. Eins bleibt aber klar, mein Lieblingsalbum wirds trotzdem nicht, dennoch krame ich auf alle Fälle mein eingestaubtes Slipknot-Shirt aus, hoffen wir mal dass da noch keine Motten dran waren...