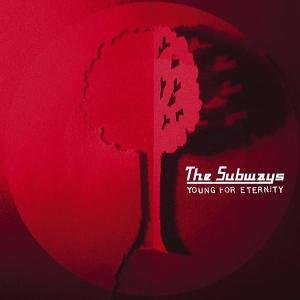 The Subways sind schnell erklärt: Die gutaussehende Bassistin Charlotte Cooper ist mit Sänger und Gitarrist Billy Lynn liiert. Und dessen Bruder Josh Morgan bearbeitet die Drums. Alle drei kommen aus Welwyn Garden City nördlich von London.
Nach einigen Live-Shows wird die Debüt-Single bei den Radiostationen rauf und runter gespielt und auch die NME ist von den Socken. Danach ging es dann ab ins Studio um Young for Eternity aufzunehmen. Sieht also nach einem normalen Raketenstart aus.
Aber wer hat diesen Rockrotzlöffeln, die im Durchschnitt gerade mal die Volljährigkeit erreicht haben, eigentlich erlaubt solch schmissige, freche Kompaktrocksongs mit der nötigen Brise Melodie und Pop zu komponieren?
"I Want To Hear What You Have Got To Say" heißt der Opener. Er beginnt nur mit Billy Lynn und seiner Akustikgitarre. Und als die Gitarren dann etwas lauter werden und die Stimme von Charlotte Cooper einsetzt ist es um den Hörer geschehen.Vor allem die Rohheit die den Song (und auch die folgenden) umgibt, verleiht das gewisse Etwas.
Schmissig geht's auch auf dem Rest des Albums weiter. "It's your eyes that make me smile, oh yeah oh yeah / Wasting time, hanging out, oh yeah oh yeah". "Oh Yeah" rüttelt wach und zeigt die Richtung an. Nach Vorne. Charlotte, ein Tanz gefällig? Denn dazu taugt die Musik am besten. Das bemerkenswerte ist aber das musikalische Spektrum, dass abgedeckt wird. "Oh Yeah", "Rock´n´Roll Queen" und "Holiday" sind straighte Garagen-Rocknummern, wobei "Mary" und "No Goodbyes" den Schritt nach hinten antreten und fast schon als akustische Balladen zu betiteln sind.
Für das Debütalbum einer so jungen Band ist das Ergebnis beeindruckend, auch wenn nicht jeder Track sofort hängen bleibt und nach der Repeat-Taste ruft. Aber lasst die mal älter werden…
www.thesubways.com