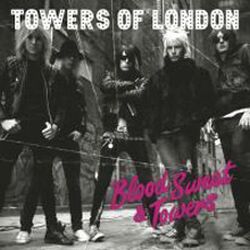 England, das Land mit dem nie versiegenden Bandpool - jeden Monat eine neue gute Band und alles halbe Jahr ein neuer Megahype. Die Inselaffen scheinen viel Zeit zum Bespielen ihrer Musikinstrumente zu haben - mir solls nur recht sein. Der neueste Schrei aus dem Königreich sind in diesem Falle die Towers of London, die sich voll und ganz dem Glamrock verschrieben haben.
The Darkness haben somit wohl jemanden gefunden, der sie ablöst - gute Sache eigentlich, für mich waren sie sowieso nicht zu ertragen. Um die Hauptakteure dieses Reviews kurz und knapp zu beschreiben, werfe ich mal die Worte 'asozial', 'trinkfreudig' und 'Haarspray, Baby!' in die Runde. Letzteres ist augenscheinlich die Grundbasis für den 5 Mann starken Mötley Crue-Verschnitt, denen sie übrigens bei einem Festivalauftritt mal ganz gewitzt die Haarspraydosen aus dem Backstagebreich geklaut haben. In England werden sie bereits als die neue Hoffnung des Punkrock gefeiert und von der Presse aufgrund ihrer doch sehr exzessiven Lebensweise gefürchtet.

Innovativ ist das, was geboten bekommt aber nicht wirklich. Eine Mischung aus Sex Pistols, The Bones, Backyard Babies und anderen Punk und Rock'n'Roll Kapellen dringt einem da ins Ohr. Hohen Anspruch sucht man ebenfalls vergeblich. Damit stehen die Towers of London in der weiten Musikwelt jedoch bekanntlich bei Weitem nicht alleine dar. Wenn man aber Bock hat sein Gehirn getrost vor der Haustür zu lassen und einfach mal richtig prolligen und gradlinigen Punkrock zu hören, dann ist man hier vollkommen richtig. Hoher Mitgröhlfaktor und die Füsse wackeln im Takt der Musik. "I´m a rat" legt herrlich vor: Kernig, rotzfrech und die Bierfahne des Sängers lässt sich sogar durch die Lautsprecher erahnen. Und so geht es auch weiter im Takt. Bei "Air guitar" (übrigens auch als Video auf dem Silberling enthalten) ist der Name Programm, während "Kill the pop scene" nicht wirklich überzeugen kann. Bei "Beaujolais" ist der Wink mit dem Zaunpfahl in Richtung Sex Pistols-Klassiker "Bodies" gewollt und gelungen - schöner Track, gehört auf jeden Fall zu den Besten der Platte. "Fuck it up" schlägt da, anders als der Name erahnen lässt ruhigere Töne an; Banjo und Akustikgitarre werden mit Erfolg angetestet. Mit "King" folgt ein weiterer Höhepunkt des Albums und anschliessend reihen sich weitere 7 Knaller in das rundum-sorglos Paket ein. Hervorheben sollte man hier noch "On a noose" und natürlich die geniale Rockversion von "Fuck it up", die für mich der Killertrack von "Blood, sweat & towers" darstellt.

Im Großen und Ganzen ein recht gelungenes Werk der Londoner Rotzlöffel. Wer bei feucht-fröhlichen Parties auf diese Platte setzt, sollte leichtes Spiel haben den Abend Luftgitarre-spielend auf dem Tisch zu verbringen, oder kotzend auf dem Klo zu verbringen. Zu hoffen bleibt nur, daß sie sich bei ihrem skandalösen und exzessiven Rockstarleben nicht zu weit aus dem Fenster lehnen und letztendlich eine ähnlich peinliche Figur abgeben, wie Mr.Doherty.